How To Hire A Graphic Designer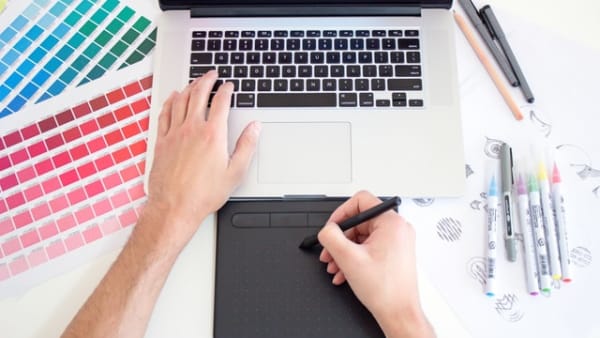 A graphic designer's primary role is to communicate ideas and/or information through the creative use of visual design techniques. They take various elements, such as text, graphics and images, and organise them into an eye-catching layout that clearly communicates the intended message.
At the same time, they must maintain the brand identity of the company or organisation they work for.
Graphic design projects vary, and may include presentations, posters, digital ads, brochures, magazines or company reports. Graphic designers often collaborate with other creatives such as copywriters, web designers and digital marketers.
A talented graphic designer can elevate your company profile, help attract new clients or customers, and ensure a consistent, professional and on-brand image exists across all your visual assets.
In this article, you'll learn more about the key skills to look for when hiring a graphic designer, and how to test for them as part of the recruitment process.
What should a graphic designer be able to do?
Graphic design combines creative flair with technical ability, and the day-to-day responsibilities of anyone employed in such a role can be diverse.
Whilst their end goal is to produce a visual product that successfully answers a brief, the steps needed to get there are many, and at any given time a graphic designer may be involved in the following activities:
Discussing the scope and objectives of a project with relevant parties and associated teams.
Offering guidance on visual strategies to connect with a specific audience.
Conveying key messages through the manipulation of design elements such as fonts and colours.
Curating or creating supporting media including graphics, logos, photographs, illustrations and video.
Designing layouts using software programmes such as Microsoft Powerpoint, Adobe InDesign and Adobe Illustrator.
Presenting ideas and final designs.
Responding to feedback and making alterations as necessary.
Filing digital assets in an organised and logical manner.
As well as maintaining an established brand identity, it is often the role of a graphic designer to build that identity in the first place - for example, if you are a start-up company or going through a rebrand.
Here, a graphic designer may head up the creation and implementation of new brand guidelines, and as such may be required to show strong leadership.
Skills to look for in a graphic designer
When hiring for any role in any industry, it's important to have a list of essential criteria: a must-have skill set against which you measure all applicants.
To a certain extent, these must-have skills depend on the specific needs of your business, but when it comes to hiring a graphic designer, there are certain skills you should expect all candidates to be able to demonstrate:
Software skills: along with relevant design programmes, a graphic designer should be confident working with a range of software, including file sharing applications, photo and video editing software and content management systems.
Communication skills: graphic designers must be attentive listeners, and be able to process and interpret verbal and written instructions, as well as hold the ability to clearly articulate their own ideas.
Problem-solving: it is a graphic designer's job to come up with visual solutions for any given communication objective, so a creative approach to problem-solving is key. It's also an essential skill for exploring new ideas when an initial design does not deliver.
Critical thinking: this goes very much hand in hand with problem-solving. Combined, these skills enable a graphic designer to consider a project from multiple angles, assess the strengths and weaknesses of each one, and decide on the most appropriate course of action.
Attention to detail: a keen eye and the ability to maintain focus are priority must-haves for a graphic designer. Without these skills, mistakes can be easily overlooked, and projects may become subject to time delays and unforeseen costs.
Useful abilities for a graphic designer
To apply their skills, graphic designers also need a set of core abilities. These are what enable them to become an effective part of the workforce, and include:
Time management: a graphic designer must be able to manage their own schedule, as most projects they work on will be subject to tight deadlines. They must allocate sufficient time to each task, and set themselves key project milestones.
Creativity: visual communication is an art form, and any good graphic designer will have the creativity to come up with new ideas and new concepts. They should explore multiple solutions to a brief, and develop the strongest ones into final proposals.
Teamwork: every design project will have multiple stakeholders - those that initiated the brief, those responsible for other elements of the project (like copy for example), and any other relevant third party, like printers or publishers. This makes teamwork a vital skill for a graphic designer.
Initiative: it is a graphic designer's job to interpret a brief in a creative manner, and rarely will there be specific direction on the visual aspect of a project. They must therefore have the initiative to move forward and propose ideas of their own.
Adaptability: shifting deadlines, changing demands and constructive feedback all require a graphic designer to show flexibility with both their work and their schedule.
Which soft skills tests could I use to hire a graphic designer?
Soft skills are often overlooked in the recruitment process, largely as they are so hard to measure on paper. Unfortunately, this is what often leads to an unsuccessful hire, as it is an individual's soft skills that allow them to apply their technical skills constructively.
Pre-employment tests are specifically designed to assess certain soft skills. Some you may find useful when recruiting for a graphic designer include:
Teamwork: a teamwork test will give you a good indication of how well a candidate is likely to work with others, including those within their own team, and external departments. This is key for graphic designers since collaboration is such an integral part of the design process.
Time management: this will help you determine how capable a candidate is of managing their workload and how likely they are to meet key deadlines. Those with good time management skills will prove more effective at juggling multiple projects and prioritising important tasks.
Interpersonal skills: an applicant with strong interpersonal skills is likely to find it easy to build workplace relationships, respond to constructive feedback, and communicate creative ideas to non-creative coworkers, all of which make for a good graphic designer.
Which technical or aptitude tests could I use to hire a graphic designer?
There are also various pre-employment tests you can use to measure an applicant's natural aptitude and technical abilities.
For technical skills, you should look to administer software tests relevant to the programmes and applications your graphic designer will be using on the job, like a Microsoft Powerpoint test for example.
You may also want to consider the following:
Verbal reasoning: used to assess the ability to interpret and draw conclusions from new information, a verbal reasoning test will give you insight into a candidate's critical thinking and verbal comprehension skills.

Logical reasoning: another measure of critical thinking, logical reasoning tests ask candidates to identify rules and relationships in patterns and sequences. This tells you more about their ability to apply creative problem-solving strategies.

Error checking: with an error checking test, you're looking at attention to detail and the ability to maintain accuracy and focus when working under pressure.
Our recommended test battery for a graphic designer
When using pre-employment tests to assist with selection, it's important to choose those that add value to the process. For graphic designers, we recommend the following test battery:
Verbal reasoning: to measure an applicant's ability to interpret and critically assess written briefs.
Interpersonal skills: to assess an applicant's ability to interact with others and maintain relationships.
Error checking: to check for the key skills of attention to detail and focus under pressure.
Time management: to ensure a candidate can juggle multiple tasks while still working towards and meeting deadlines.
For more information on hiring a graphic designer, check out Neuroworx's page on graphic designer tests.