How To Hire A Content Writer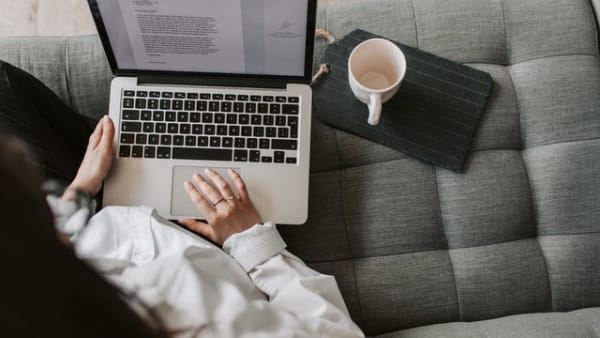 A content writer creates, edits and proofreads digital content such as blogs, web copy and marketing emails. They're primarily skilled as writers or editors, but should also have a solid understanding of the principles of SEO, marketing, social media and even data analytics.
Operating in a digital-first society means a content writer is an essential role for businesses that want to ensure a professional, accurate and on-brand impression of their online assets.
A good content writer can help you increase web traffic, clearly and concisely sell your offering, and ensure you have a distinctive voice within your sector.
This article will help you identify the skills you need in a content writer, and the specific tests you can set to ensure you hire the best person for the role.
What should a content writer be able to do?
A content writer primarily deals with the effective development, curation and delivery of digital materials, which could involve copy for websites, social media, blog posts, and more generic digital marketing.
With responsibility for the development and delivery of a client or business's web copy, a content writer has a busy job where they'll need to draw on lots of different skills, and demonstrate their ability to communicate openly and effectively with multiple people.
Content writers should be able to:
Oversee the content production needs of the business or client.
Accurately proofread copy to identify and correct errors in spelling, grammar and syntax.
Write compelling, on-brand, accurate and grammatically correct copy.
Fact-check information and details.
Write and edit content effectively according to audience and channel.
Use SEO knowledge to enhance web copy performance.
Read and understand data analytics to track performance and make edits accordingly.
Immerse themselves and their work into the brand and tone of voice they're working with.
Proficiently use a CMS to structure and upload web copy.
Skills to look for in a content writer
Content writers are responsible for writing copy for blogs and web pages, social media and marketing materials. As a result, they will need to have a diverse skill set including an accurate and stylistic writing style, a solid understanding of SEO, an awareness of industry trends, and an ability to work with different types of CMS.
Content writers should be able to demonstrate the following:
Technical and stylistic writing, editing and proofreading skills: so that written copy is always accurate, on-brand and delivers key objectives.
Confidence writing for different platforms and audiences: content writers should be able to craft content and tailor it appropriately by platform and audience.
Proven understanding of different web and social platforms: as well as strong writing skills, a content writer should be able to demonstrate a solid understanding of the usage of popular social media platforms.
Understanding of SEO: it's important that a content writer understands SEO and can utilise it effectively to boost the health and visibility of the content they're sharing.
Strong communication and comprehension skills: this is a job that often involves working with multiple stakeholders and juggling competing projects and objectives. Strong communication and comprehension skills will help ensure smooth delivery and better working relationships.
Useful abilities for a content writer
As well as strong copywriting skills, content writers need an array of skills to balance the practical needs of the role with the relationship building, time management and various administrative tasks that will also be required.
Some of these skills, behaviours and abilities include:
Time management: as with many roles, time management] is a crucial skill that will help ensure content is delivered on time, even in challenging circumstances.
Keeping calm under pressure: content writers need to be prepared for lots of opinions and feedback on their work, as well as the ability to manage multiple stakeholders and priorities. Keeping calm under pressure is a highly valued skill and one a successful content writer should be able to demonstrate.
Balancing different needs and objectives: it's likely that a content writer will need to work with multiple clients or internal stakeholders. As a result, it's important they can juggle various requirements and prioritise key objectives that benefit the business.
People skills: being able to work with people of all levels of seniority can be a challenge, but a good content writer should be able to communicate openly and honestly, in a professional and calm manner. Demonstrating strong interpersonal skills is key for a role that involves working with so many different people.
Versatile and adaptable: last-minute changes are inevitable in the fast-paced world of content delivery. That's why an ability to seamlessly adapt to challenges is important.
Which soft skills tests could I use to hire a content writer?
As well as the specific qualifications and skills need to deliver successful content, it's important to assess soft skills and ensure your chosen content writer demonstrates evidence of these attributes and behaviours:
Time management: Essential, as a content writer will have to juggle multiple, sometimes conflicting, priorities, while hitting regular publishing and delivery deadlines. Assessing your content writer applicants' time management skills before hiring is a good way to give yourself additional peace of mind.
Interpersonal skills: Working with clients and stakeholders of all levels is a skill that not everyone possesses. A good content writer will need to be able to communicate professionally and transparently to win the trust of everyone they're working with, and ensure a seamless content delivery service.
Accountability: Digital publishing is fast-paced and sometimes errors can be made – and unfortunately seen – by large volumes of people. The ability to learn from mistakes and take accountability is an important skill, and one that a good content writer should have to cope with the demands of the role.
Which technical or aptitude tests could I use to hire a content writer?
Depending on the nature of the programmes and software you want your content writer to work with, there are multiple different technical and aptitude tests you could set as part of the hiring process.
Here are some of the most commonly used tests that we'd recommend:
Our recommended test battery for a content writer
Hiring the right content writer for your business is important, and selecting the best aptitude, soft skills and software tests for the recruitment process is the best way to ensure you're only interviewing, and ultimately hiring, the best person or people for the role.
The tests you should consider are:
For more information, check out our pages on content writer tests.