Internship Recruitment: A Guide For Employers Hiring Interns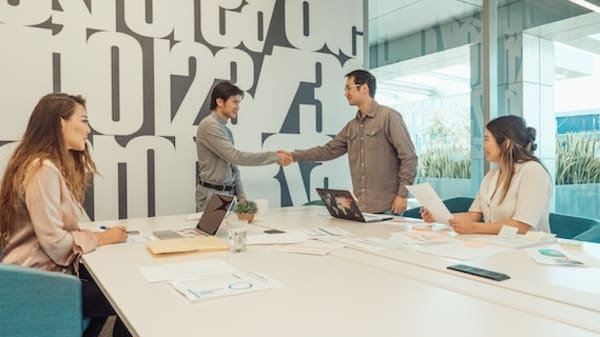 Internship recruitment benefits both employing organizations and college students looking for ways to kick-start their careers.
Students can gain valuable, practical work experience related to their studies or career interests. This allows them to gain new skills and explore their career plans more thoroughly.
For the employer, hiring an intern brings new energy and ideas into the organization. It allows them to develop future talent and build a pipeline of prospective employees.
If your organization wants to hire an intern, it must set up a dedicated internship hiring process. Once this has been agreed, you must aim to start advertising internship positions at least six months before the intended start date.
In this article, you can learn how to set up a robust system for hiring interns.
What is internship recruitment?
Internship recruitment refers to the process of hiring an intern. When an organization hires an intern, it must offer structured learning opportunities.
An internship is a fixed-term job opportunity with an employer. People working as an intern tend to be students or postgraduates, and most internships run for between one month and three months.
Many internship positions are offered part-time during term time, with the option to increase to full-time hours during vacation periods. Summer internships are usually offered on a two-month contract basis.
At the end of the internship, the employer might decide that the employee is the perfect match for an upcoming permanent role.
On the other hand, the employer might decide that the employee is not suitable for the role, or the employee might decide that the organization is not a good match for them.
Whatever the outcome, an internship program allows employers to vet talent before making costly and time-consuming recruitment decisions.
Competition for internships is often very high. Organizations must use a detailed and rigorous hiring process to recruit the best candidate.
Why is internship recruitment important?
Internship recruitment offers many benefits to the intern and the employing organization.
For the intern, securing an internship will boost their resume, making their application more attractive to employers when applying for graduate jobs.
Interns also have the opportunity to gain real-life work experience in an industry relevant to their university major or chosen career path. This is useful for building knowledge and deciding whether a particular job role suits them.
Hands-on experience is a great way to gain a competitive edge against other candidates in the hiring pool. Internship recruitment also allows interns to build up their professional network for the future.
For the organization, internships are a helpful way to find out how a person works in a day-to-day setting within the organization without needing to commit to a permanent hire.
Here is an overview of the reasons why internship recruitment is important.
Creating a talent pipeline. Internship recruitment helps organizations find and develop prospective future employees. In the longer term, internship recruitment can be used to pinpoint staff for future leadership roles.

Cost-saving in recruitment. Interns are often paid less than experienced staff, so internship recruitment is a cost-effective method for hiring new talent and filling short-term staffing requirements.

New ideas. Most interns are new to working in the industry, which means they can offer a different perspective to existing staff. Interns may have new ideas on how to manage internal processes.

Boosting the brand. Offering internship opportunities shows that the organization is committed to talent development, diversity and inclusion, and community investment. This can improve the reputation of the business, which will help to attract candidates in the future.

Creating a supportive working environment. An effective internship program means interns can interact with a network of supportive colleagues and as part of a collaborative team.
What are the challenges of internship recruitment?
In most cases, internship recruitment benefits both the intern and the employing organization.
However, there are often challenges to overcome. Read on to learn more about the difficulties you might face when hiring an intern.
Hiring the Best Interns Takes Time
Organizations offering a well-structured internship program will likely be inundated with applications. Each of these must be checked through carefully.
Once you have narrowed down the applicant pool, you must communicate with prospective interns before setting up interviews or an assessment center.
If you plan to use pre-interview screening tools, you must build in additional time for these tests.
In summary, hiring the best interns requires a significant time commitment from the hiring manager and the HR department.
Your Preferred Intern Might Turn You Down
The internship recruitment process takes significant time; even after it is completed, your preferred candidate might turn you down.
Even if they accept the offer, the intern might use your position as a stopgap until something more suitable arises. In this situation, the intern might not put the required effort into the internship.
Employing an Intern Might Not Solve Your Issues
Some organizations use internships to seek outside perspectives on existing issues. For example, your team's work output might be slowed down by an internal process that hasn't been changed for decades.
You might ask an intern to review this process and suggest improving it. However, some interns will be reluctant to criticize existing working practices.
There are a few potential reasons for this. They might be worried about disapproval from more experienced team members, or they might not have the confidence to speak up about their ideas.
How to hire interns
1. Set the goals of your internship program
The first step is to consider your primary objectives. Why do you want to hire an intern? What contribution will the role holder make to the team's goals and wider organization?
Make a note of these details, then think about the daily activities you expect the intern to undertake. Will they be contributing to the general day-to-day work of the team or responsible for a specific project? Are you hiring an intern for extra help, or are you trying to set up a talent pipeline for future full-time vacancies?
In some sectors, hiring interns is a helpful way to stay on top of seasonal demands. These goals should be at the core of the recruitment process.
2. Determine the duration and format
You will need to decide on the internship duration before advertising the vacancy. This information will need to feature in the advert. If you want to hire a summer intern, the duration will likely be two months. The dates of the internship will need to fall in line with college semester dates.
You must also consider who will supervise and mentor the intern. The success of an internship relies heavily on the quality of supervision and mentorship.
Consider who the intern will report to and who they can contact for advice. Who will provide their day-to-day training? Ensure these employees have the resources and time they need to offer the appropriate level of support to the intern.
3. Develop an attractive job description
An intern job description must include the following:
An overview of the business
Day-to-day duties of the intern job role
Details of the knowledge, abilities and skills applicants must have to be considered for the role
Preferred class level, major and previous work experience required for the role
Required GPA (if applicable)
Is the internship paid or unpaid? If it is paid, what will the salary be? Remember, in many cases hiring unpaid interns to work for a private organization is illegal.
Consider any guidelines that your organization is governed by. If your organization is a nonprofit company, it might be exempt from offering paid internships. Always check which category your organization falls under before starting the hiring process.
Are international students eligible to apply? If so, will hosting be organized on their behalf?
What documents must the employee produce during the application process? This might include photo ID such as a passport or driver's license, proof of home address and Social Security number.
Is the employer willing to work with guidelines laid out by the appropriate university for college credit?
4. Use multiple recruitment channels
Using multiple recruitment channels is essential when hiring an intern. Advertising your internship opportunity in several different places means you will reach a wider pool of potential candidates.
There are a few options to consider when advertising an internship vacancy. Consider advertising both online and in print.
If you want to advertise online, arrange for local colleges to post your advert on their website or job board. You can also look at posting your advert on websites like Indeed, Glassdoor and Monster.
You can also use social media to spread the word about your vacancy. Post a status update to Facebook, Twitter or LinkedIn, or set up a paid advertising campaign to target specific students, interests and locations.
If you want to advertise in print, contact your local newspaper to set up an advert in its job bulletin.
5. Offer competitive compensation
There are limited circumstances where it may be appropriate to offer an unpaid internship, but in general, employers should avoid offering unpaid internships.
Sometimes, employers offer different types of compensation for an unpaid internship. These include stipends to offset the student's cost of living expenses, academic credit and discounted or free accommodation.
In most cases, offering competitive pay rates and compensation is the best way to attract high-quality applicants to your vacancy. The Fair Labor Standards Act sets out minimum wage and overtime pay standards in the US.
Offering an unpaid internship can undermine your brand, demotivate your paid workers and encourage a culture of inflexibility and resistance to change. Simply put, if your intern's work is valuable to the company, they should be compensated for this.
According to Glassdoor, the national average salary for an intern in the United States is $38,090 ($18.71 per hour, according to Indeed). Compared to the average annual pay of $58,563, hiring an intern may seem like an excellent way to hire "cheap" labor. However, in some cases, interns can earn more than $9000 per month. According to Glassdoor, Stripe, Roblox, NVIDIA and Coinbase offer the highest average monthly salary for interns.
6. Review resumes
Some of the most popular internship programs receive hundreds or thousands of applications. Google offers one of the most coveted internship programs in the US. In 2019, it received over 125,000 applications.
However many applications your advert attracts, you will need to find the most efficient way to process these. Setting out your screening criteria is the best place to start.
Think about the essential requirements you are looking for. Are you only looking for students working towards a particular college major? Do you want candidates to have demonstrable experience in team leadership?
Whatever your chosen criteria, communicate this clearly to everyone involved in the shortlisting process.
Consider using an Applicant Tracking System (ATS) to make this task easier. This will help streamline your recruitment funnel, allowing you to pick out applications that include specific keywords.
Once you have removed any unsuitable applicants, it is time to start ranking the applications. To do this, you could use criteria such as:
Attention to detail. Check through applications for errors and inconsistencies. Look at whether the written information is articulate and clearly formatted.

Experience. Read the candidate's personal statement or additional information. Even if they do not have much relevant work experience, they may have given examples of where they have used their leadership, communication and team-working skills.

Interest in the business. Check through the candidate's application - have they mentioned why they want to apply? What interests them about the job vacancy? Why do they want to work with your organization in particular?
7. Use pre-employment assessments
Pre-employment assessments are a valuable tool in the hiring process. Many organizations use pre-employment assessments to select the most qualified and suitable candidates for specific job roles.
Employers can choose from various pre-employment assessments, depending on the nature of the vacancy they are hiring for. Examples of pre-employment checks include cognitive ability tests, personality tests and skills reviews.
Psychometric tests are beneficial for internship recruitment. These can be used to find the most suitable candidate for a job, check if they fit the organizational culture, and screen applicants without needing to conduct hundreds of interviews.
Psychometric testing for internship recruitment often includes:
8. Conduct interviews
Holding interviews is an integral part of the intern recruitment process. It allows you to meet each candidate in person, ask them a series of standard questions and assess whether you think they will be able to handle the challenges of the job role.
If you have a lot of candidates to interview, consider holding an assessment day or group interview. This allows you to make better use of your time. You can also use it to determine how a candidate interacts in a group and whether they have the required people skills to succeed in the role.
Here are some example interview questions for prospective interns.
Tell me about your studies and career to date.

Tell me what you already know about the organization. Why do you want to work here?

What do you know about the industry? What do you find appealing about working in this industry?

Why did you choose your college and major?

What are your future career goals?

Have you completed any coursework that is relevant to this internship?

What do you consider to be your main strengths?

Do you have any areas of weakness? Have you considered ways that you might improve in these areas?

Are you involved in any extracurricular or voluntary activities? What have you learned from these?

What skills can you bring to this position?

How do you hope to make an impact as an intern?

Describe a situation where you made a mistake. What happened? What did you learn? What would you do differently in the future?

Describe a situation where you had to make a difficult decision. What did you do? Who did you speak to? What was the outcome, and would you do anything differently next time?

How do you handle stressful or pressurized work situations? Do you have an example?
9. Make an offer
Once you reach the end of the hiring process, you should prepare to make a conditional job offer to your preferred candidate. Depending on your organizational policies, this may be subject to medical clearance, references or other specific criteria.
The first step is to contact the applicant to inform them of the outcome. You can do this verbally and if they accept, follow up with a formal letter.
The formal offer letter will need to include the following information:
Official company name

Title of the internship position

Duration of the internship, including start and end dates

Hours of work for the internship, including shift start and end dates if applicable

Information on whether the internship is paid or unpaid

Legal disclosures (for example, non-disclosure agreement)

Name and job title of the person responsible for overseeing the internship

Statement of acceptance and space for the candidate to sign

The deadline by which the candidate must accept or decline the job offer
You will also need to contact unsuccessful candidates and offer feedback.
Tips for internship recruitment
1. Build a rapport with a local college
Working with a local college will help connect your organization with students looking for an internship.
Consider arranging a meeting with professors in relevant fields at these colleges and asking them to recommend an internship at your organization to their students.
Once you have built a rapport with a local college, they may allow you to post job adverts on their job boards. You could also organize a booth at a career fair.
2. Make the most of social media
Many prospective interns will use social media regularly, so it is a useful way to connect with them. Spread the word about your internship program and what makes it great on your social media channels.
You could post an interview with a current intern or ask them to record a video illustrating a day in the life as an intern for your company.
3. Post online job adverts
If you are ready to hire an intern, you can post an online job advert like you would for a permanent vacancy.
Using a national website like Indeed means you can reach prospective candidates nationwide. Ensure you include relevant keywords to make it clear that your vacant position is an internship opportunity.
4. Set up a referral program
Once you have a few interns in the pipeline, consider asking current or past interns for referrals.
Since most are likely college students or recent graduates, they will probably know many other students looking for internships. If budget allows, offer a reward, bonus or prize for each successful referral.
Final thoughts
Whatever industry you work in, interns can be an excellent source of talent. But as with any recruitment decision, it can take time to find the right intern. A robust internship program is the most effective way to ensure positive impacts for interns and the organization.
If you are looking for ways to streamline internship recruitment, Neuroworx can help. Contact us today to learn more about our Applicant Tracking System and pre-employment screening tests.