What is integrated talent management? A guide
Read about how to best achieve your talent strategy by integrating people processes across the employee lifecycle.
Success! Thank you for downloading our white paper.
Something went wrong. Check you entered a valid email address.
What's Inside?
Various people processes (e.g., recruitment, engagement, performance) are often managed independently of one another. This white paper explains the power of integrating them under one talent strategy in order to reap better benefits. It explains what integrated talent management is and how to make the most of it by walking you through what this approach looks like in a select few people processes:
Recruiting and hiring top talent
Engaging and retaining employees
Enabling employee performance and development
What is integrated talent management?
Integrated talent management is an important HR strategy that focuses on the employee lifecycle. It is a unified system that covers employee recruitment, development, and retention activities. This approach helps organizations attract, develop, and retain top talent to ensure the best possible performance in their business operations.
Integrated talent management emphasizes streamlining processes such as hiring, onboarding, training and development, succession planning and other related activities throughout the entire employee lifecycle.
By unifying these processes into one platform or system it enables organizations to efficiently manage their workforce while simplifying communication among all stakeholders involved in the process.
In addition to helping boost overall productivity and efficiency within the organization, this approach can also help create a culture of collaboration between employees by allowing for easier access to information about each others' roles and responsibilities within the company.
Why is integrating talent management important?
Integrating talent management is an increasingly important part of HR departments, as it helps to ensure that the right employees are working in the right roles.
Talent management involves using data and analytics to help recruiters find the best candidates for job openings, as well as helping to develop current employees. In this way, it ensures that a business has highly-skilled personnel working in all areas.
By having strong talent management processes in place, businesses can be sure they have the skills necessary to achieve their goals. It also allows them to remain competitive by being able to quickly respond and adapt when faced with changing markets or new legislation. Furthermore, integrating talent management into HR can help reduce recruitment costs by allowing businesses to better identify potential candidates who may already have some of the required skills and experiences for a particular role.
What are the benefits of integrated talent management?
Integrated talent management (ITM) helps organizations to optimize their processes from initial hire through to retirement.
Organizations that have implemented ITM have seen numerous benefits. By linking together the various components of talent management, organizations are able to gain greater visibility into their workforce and identify areas for improvement. This improved visibility allows them to make better decisions on where to invest resources and develop better strategies for recruiting, training, and retaining top talent.
Additionally, by having a single source of information on employee performance, companies can quickly respond to changes in the market or demand specific skill sets.
What are the 4 areas of talent management?
There are four main areas that come under talent management are: recruiting, training and development, performance management and compensation.
Recruiting is the process of finding qualified employees who fit well with an organization's culture and values. This involves posting job openings, interviewing potential candidates and making final hiring decisions.
Training and development focus on equipping employees with the necessary knowledge to do their jobs more effectively; this includes providing orientation materials when new hires onboard as well as workshops for existing staff to help them progress in their career paths.
Performance management focuses on how well your current employees are doing and supporting their professional development as well as rewarding them for their contributions.
How to implement integrated talent management strategies (ITMS)
By creating the right strategies for integrated talent management, businesses can ensure that they have the right people in the right places doing the right things at the right times. Companies should focus not just on finding qualified individuals but rather on finding those who are well-suited to their organizational culture and objectives so they can retain them long-term.
Organizations should start by developing clear objectives that define what they want to achieve with their talent management efforts, such as improved employee engagement, increased recruiting success, or better retention of top performers.
They should then identify the key processes involved in optimizing talent and map out how these processes interact with each other.
Additionally, they need to establish clear performance metrics so they can measure progress over time.
Finally, organizations must ensure effective communication between all stakeholders.
Want to learn more about talent management strategies? You can download our white paper for additional information.
What case studies support the benefits of integrated talent management?
In our white paper, we explore some evidence-based case studies which highlight the benefits of an integrated talent management strategy.
Hiring a Sales Associate
Improving the Employee Experience
Driving Stronger Performance
Integrating Results
You can download the white paper at the top of this page.
Other useful integrated talent management resources
Want to read more about talent management? Here is a few additional resources: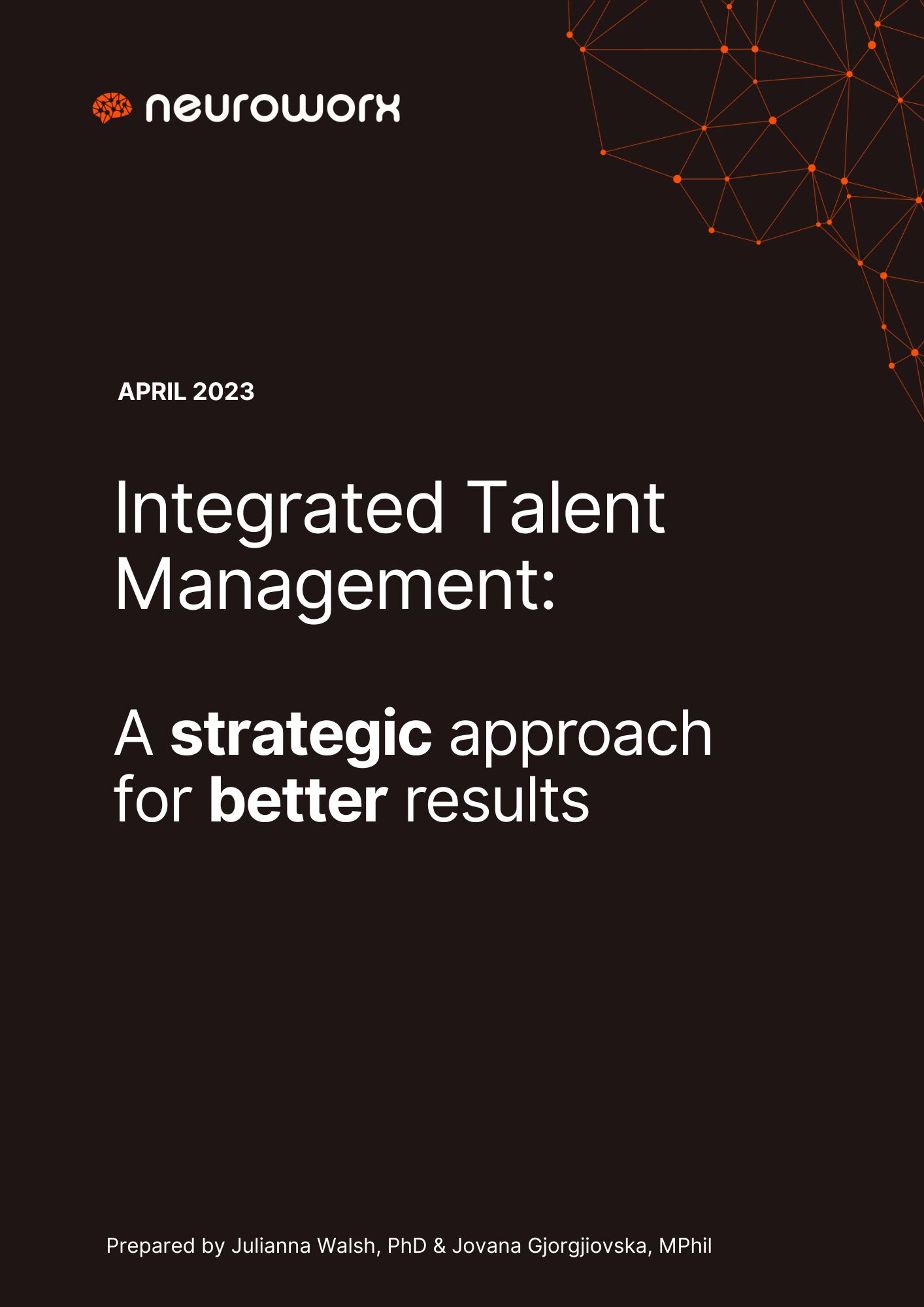 Boost your hiring power.
Start using Neuroworx today.
Talk is cheap. We offer a 7-day free trial so you can see our platform for yourselves.
Try for free