What Does An End-To-End Process Of Recruitment Look Like?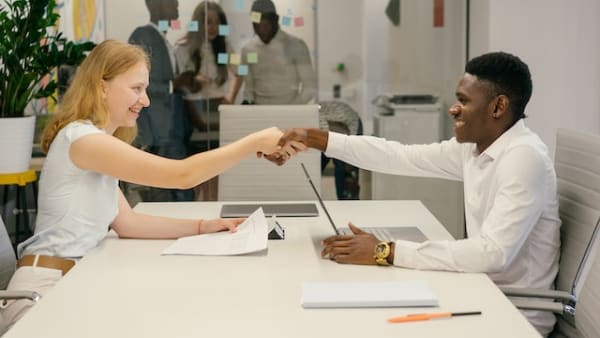 Today's turbulent labor market presents many challenges to employers looking to hire new talent.
Rocketing interest rates, inflation and the prospect of a global recession have unsettled the economy, which has led many organizations to instigate hiring freezes and layoffs.
The US Bureau of Labor Statistics reports that there were over 9.5 million job openings in the US during March 2023. And although this figure has fallen steadily since 2022, competition for the best positions remains high.
In an uncertain financial climate, jobseekers are keen to maximize their earning potential and access the best employee benefits.
Meanwhile, employers want to achieve the best possible value from their hiring choices. As a result, hiring the right people for the right jobs is critical.
One approach to making high-quality hiring decisions is the introduction of an end-to-end process of recruitment.
In this article, you can learn more about end-to-end hiring and how it can help your organization make better hiring decisions.
What is an end-to-end process of recruitment?
The end-to-end process of recruitment (also known as full cycle recruitment) refers to the entire hiring process, from identifying the need to recruit to successfully onboarding the new staff member.
Many organizations choose to outsource the end-to-end recruitment process to RPO (recruitment process outsourcing).
When organizations apply an end-to-end approach to hiring, it is more likely that they will recruit the best candidates for the job role and organization.
There are six key steps to the end-to-end process of recruitment:
Preparation and planning
Sourcing candidates
Screening
Selecting
Hiring
Onboarding
At first glance, the end-to-end recruitment process may seem lengthy. However, technological advances have helped to streamline many of the steps.
Neuroworx offers a variety of automation tools and artificial intelligence functionality that will help to reduce the time to hire and allow you to produce valuable metrics.
Why is an end-to-end process of recruitment important?
The end-to-end process of recruitment involves working directly with the hiring team to plan the most effective approach to recruiting for vacancies.
The process starts before the job vacancy is advertised. When using an RPO, the hiring team works directly with the organization to identify, plan and define job roles, source candidates, screen applicants, set up interviews, and provide a smooth transition throughout the onboarding process.
In a competitive job market, having an efficient end-to-end recruitment process helps organizations attract high-quality talent.
Offering a positive recruitment experience to prospective hires can boost your brand, as job seekers are likely to share their views with other people looking for employment.
Step 1: Preparation
The first part of the end-to-end hiring process is identifying and defining the candidate the organization wants to hire.
It is essential to consider what qualifications, skills, experience and personal characteristics are required to succeed in the proposed job role.
Hiring a like-for-like replacement isn't always the best strategy. When an employee leaves, managers should review the job description, conduct an exit interview with the employee leaving, and speak to the rest of the team. This can help to identify the areas that need to be considered when planning a new hire.
Employers should also consider conducting a skills gap analysis, which will help to identify what type of talent is required to fill the vacant post.
Once this information has been agreed, a detailed job description can be produced. This will give prospective applicants an overview of the job role, including day-to-day duties, key responsibilities and how the position fits into the existing team and organization.
Step 2: Sourcing
Employers should consider the following methods for sourcing new employees:
Internal sourcing: consider whether the right candidate is already employed elsewhere in the organization

External sourcing: target passive candidates who are not actively looking for a new opportunity. These people can be approached through online research, networking or asking existing employees if they have any contacts that may be interested in the job opening

Social media: employers can use a combination of paid and organic social media posts to advertise the job opening. This allows them to interact with both active job seekers and passive candidates

Job boards: organizations can post job vacancy details to active job seekers on job websites and boards such as Indeed and Monster.

Applicant sourcing solutions: the Neuroworx applicant sourcing solution helps organizations to attract the best talent. You can use it to manage all your job vacancies in one place, and it allows you to post job vacancies on hundreds of job boards.
Simply tell the system what you are looking for in a job applicant, and the system will start sourcing candidates.
With access to the global talent pool, hiring workers from all over the world is possible. You can use the assessment suite to tap into the best talent and use the integrated Applicant Tracking System (ATS) to manage all of the applications you receive.
Step 3: Screening
When it comes to applicant screening, you can use either a manual method or an ATS. Some systems allow you to search resumes and application forms for specific keywords or phrases.
Using an ATS means you will have access to critical insights into your applicant's skills, experience and personality traits.
After you have received sufficient applications, the Neuroworx ATS will help you sift through resumes and screen the remaining applications.
Our powerful ATS can manage applications and move candidates through the hiring process on your behalf, helping you to maximize your productivity and leaving you with more time to spend on other aspects of recruitment.
Step 4: Selection
Once you have drawn up a shortlist of preferred candidates, the next step is to interview them. This is a tried-and-tested recruitment method, which remains vital to the end-to-end hiring process.
Even if a candidate seems to be ideal "on paper", it is impossible to know whether they are suitable for the job role without interviewing them.
During the interview, you can use a combination of standard interview questions, situational judgment questions, aptitude tests and skills assessments.
For this part of the process, you can use the Neurowork Candidate Relationship Manager (CRM) to keep track of your candidates and find data that can be used to decide on the strategic interview questions you want to ask.
Step 5: Hiring
Staying organized throughout the hiring process is vital to providing a positive candidate experience to applicants.
After the interview, you will need to let candidates know the outcome of their application, offering appropriate feedback where relevant and answering any questions they might have.
After making a verbal job offer, you must follow up with a formal letter. This should include the standard duties, shift pattern or schedule, start date, salary, benefits and who the job holder will report to.
If the applicant does not accept the offer, you may want to negotiate with them. You will also need to inform unsuccessful applicants of the interview outcome, offering feedback where relevant.
The Neuroworx CRM will help you stay on top of hiring deadlines. It also provides easy access to applicant contact details.
Step 6: Onboarding
Many organizations overlook the importance of onboarding. But when you have gone through all that effort to find the right employee, you want to give them the best possible introduction to working for the organization. This is an integral part of reducing company turnover rates.
If the preferred candidate is required to work a notice period with their current employer, this can leave a lengthy gap between the job offer and their start date.
Communication is vital during this period. Keeping your new recruit up to date on what is happening behind the scenes and what they can expect from their first few days and weeks working for the organization will help to resolve any concerns they might have.
The orientation program should be welcoming and allow plenty of opportunities for the new starter to network with other members of the organization. It should also provide a forum for questions they might have.
Onboarding should also give new starters a flavor of the organizational culture. It should include introducing the new employee to the rest of the team, exploring corporate values and guidelines, and creating a comprehensive training schedule to address any skills gaps.
Tips for an efficient end-to-end process of recruitment
The end-to-end process of recruitment may seem time-consuming. But it is crucial that you consider the long-term return on investment.
Read on for tips on introducing an efficient end-to-end recruitment process to your organization.
1. Market your brand
Showing candidates why your organization is a great place to work is critical to attracting the best people. To achieve this, organizations must create a strong employer brand, evident at all the key touch points throughout the hiring process.
The company website, job adverts and social media pages must all be on-brand. When a candidate contacts the organization or attends an interview, the organizational culture and branding should be clear and appealing.
2. Invest in an Applicant Tracking System (ATS)
Using an ATS will help to streamline the hiring process. The Neuroworx ATS can automate end-to-end recruitment, giving you more time to focus on other business objectives. It allows you to communicate quickly and easily with candidates, and you can use it to store all of the relevant hiring documents in one place.
3. Get to Know Your Candidates
Consider the type of people you want to recruit and the best way to reach them. This will depend on the industry your organization operates in.
Consider what benefits and perks your candidate pool will likely be interested in. Many people are looking for flexible working hours and remote work opportunities post-pandemic. If these working conditions are feasible for the job, offer them and ensure this is clear in the job advert. Offering attractive working conditions from the outset helps attract the most suitable applicants to your job advert.
Remember to include details of other employment benefits in the job advert. If your organization offers perks like medical insurance, well-being resources or health check-ups, write about it in the job advert.
If your organization prioritizes training and development, talk about it. From mentorship opportunities to formal training programs, these aspects will help attract candidates.
Tell prospective candidates about your organization's achievements. Include links to information on what it is actually like to work for the business. Tell them about your organizational goals and the difference the vacant job role makes to the overall business.
Final thoughts
Achieving an effective end-to-end recruitment process takes time. It should be an ongoing process constantly reviewed and improved in line with evolving business needs.
Creating a positive candidate experience is vital to effective end-to-end recruitment. Delivering a seamless candidate experience will help keep your candidates happy. They will also tell others about the recruitment experience with your company.
Using an ATS also offers benefits to your existing staff and hiring team. On average, it takes between 16 and 35 days to fill a job opening. Implementing an effective end-to-end recruitment process will help to reduce this, leaving staff available to tackle other tasks. It will also reduce the need to pay overtime or hire expensive agency workers.
Contact Neuroworx today to learn how we can help you improve your organization's end-to-end recruitment process.