How To Write A Management Assistant Job Description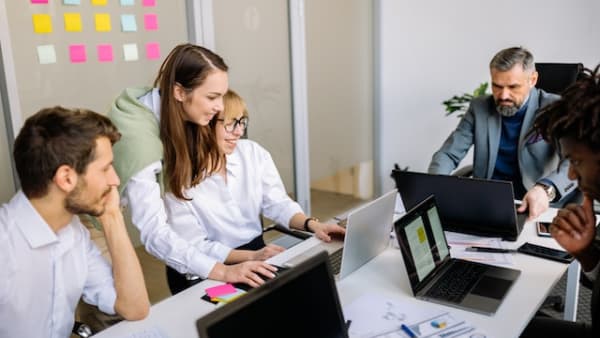 As an employer, you know that having a competent management assistant can make all the difference in your day-to-day operations. But before you can find the right person for the job, you need to write a compelling job description that accurately reflects the responsibilities and qualifications required for the role.
In this article, we'll guide you through the process of crafting a compelling management assistant job description that will catch the eye of top talent. From writing a compelling company profile to highlighting desired skills and qualifications, we'll give you the tools you need to write a job listing that sets your organization apart.
What to include in a management assistant job description
Make a strong first impression with a clear job title. Follow that up with a compelling overview of the role that will leave candidates eager to apply.
Candidates want to know about the company they could be working for. Make sure to include a brief but engaging overview of your organization's mission, values, and company culture to help them picture themselves as part of the team.
As you dive into the key responsibilities of the management assistant role, highlight the most exciting and impactful aspects of the job. Be sure to paint a clear picture of what success in this position looks like and what the day-to-day responsibilities entail.
Your ideal management assistant has a specific set of skills and competencies. Be sure to highlight these qualities in the job description and explain why they are essential for success in the role.
The right qualifications are crucial for a successful candidate, so be clear about what you're looking for. Outline the necessary education, experience, and certifications that will ensure your management assistant has the right foundation for the job.
Writing a company profile in a management assistant job description
An attractive company profile in a management assistant job description can help differentiate your company from others. It's your chance to show what makes your company great and why top candidates should consider applying for the job.
To create an engaging company profile, start by defining your company's culture. This includes highlighting the values that are important to the company and the work environment.
It's also important to highlight your company's achievements, such as awards or milestones that demonstrate the company's success and growth.
Another important element of a company profile is sharing the company's vision for the future and how the management assistant role fits into that vision. This helps candidates understand the larger goals of the company and how their role will contribute to its success.
Finally, avoid generic statements and cliches. Candidates can often see through vague or insincere language, so make sure you present your company in an authentic and genuine way.
Key responsibilities of a management assistant
When crafting a management assistant job description, you may include the following responsibilities:
Coordinate and manage the calendars of executives, schedule appointments and meetings.

Handle various administrative tasks, including managing correspondence, answering phones, organizing files, and maintaining office supplies.

Prepare and format reports, presentations, and other documents as required by the executives, including data gathering, analysis, and ensuring accuracy.

Assist in managing communications, including drafting and proofreading emails, memos, and other correspondence on behalf of the executives.

Provide support to the executives and other team members on various projects, which may involve conducting research, collecting data, and coordinating project-related activities.

Arrange travel logistics, including booking flights, accommodations, transportation, and preparing itineraries for executives' business trips.

Organize and maintain confidential information, files, and records in a systematic and secure manner, ensuring easy accessibility when required.

Establish and maintain positive working relationships with internal and external stakeholders, representing the executives professionally and ensuring effective communication and coordination.
Skills and abilities to look for in management assistants
Management assistants typically need the following skills and abilities to succeed in their role:
Time management: the ability to effectively manage multiple tasks, prioritize responsibilities, and meet deadlines in a fast-paced environment.

Communication: excellent written and verbal communication skills, including the ability to draft professional correspondence, communicate effectively with stakeholders at all levels, and maintain confidentiality when necessary.

Attention to detail: strong attention to detail and accuracy in tasks such as proofreading documents, managing calendars, and preparing reports.

Problem solving: propose effective solutions while considering the best interests of the executives and the organization.

Technology proficiency: proficiency in using relevant software and tools, such as Microsoft Office Suite (Word, Excel, PowerPoint), email and calendar applications, and other industry-specific software.

Adaptability: the ability to adapt to changing priorities, handle unexpected situations with composure, and adjust work plans as needed.

Confidentiality and professionalism: understanding of the importance of maintaining confidentiality and exhibiting professionalism in handling sensitive information and interactions.

Interpersonal skills: effectively collaborate with team members, executives, and external stakeholders, fostering positive working relationships and contributing to a harmonious work environment.

Decision making: assess situations, gather relevant information, and make sound decisions independently or with minimal guidance.
Required qualifications for management assistants
It's essential to strike a balance between setting realistic education requirements and considering the transferable skills and relevant experience that candidates may bring to the role.
While the educational background and job experience can vary depending on the organization and position, here are some common requirements for a management assistant:
Bachelor's degree: the field of study can vary but may include disciplines such as business administration, management, communications, or a related field. While a bachelor's degree is not a guarantee of a candidate's ability to do the job, it demonstrates a foundational knowledge base and the ability to engage in critical thinking and problem-solving.

Associate's degree or relevant certification: this can be applicable for entry-level or less complex management assistant positions.

Equivalent work experience: equivalent work experience in a similar role or field may be considered in lieu of a formal degree. Practical experience and demonstrated skills can be valuable in the absence of a degree.
Discussing salary and benefits in a management assistant job description
When discussing salary and benefits in a management assistant job description, employers should approach it in a transparent and enticing manner.
Don't just mention that you offer a "competitive salary." Include a specific salary range to provide candidates with a clear idea of what they can expect. This helps manage expectations and filters candidates who align with the offered compensation range.
In addition to salary, outline the benefits package offered, such as health insurance, retirement plans, paid time off, professional development opportunities, or any other unique benefits provided by the organization. This information demonstrates the added value your organization offers, giving it a competitive edge and increasing the change of attracting top talent.
Tips for writing a management assistant job description
Here are some of our top tips for writing a job description that attracts the right candidates for your management assistant role.
1. Clearly outline responsibilities
Provide a comprehensive list of specific responsibilities and tasks that the management assistant will be expected to handle. Use bullet points to make it easy to read and understand. Ensure the responsibilities align with the needs of the organization and accurately reflect the expectations for the role.
2. Include information about the application process
Clearly explain the application process, including instructions on how to apply, required documents or materials (such as a resume and cover letter), and any specific application deadlines.
3. Keep it short
Lengthy job descriptions can become convoluted and lose clarity. Candidates may struggle to understand the core responsibilities and qualifications. A concise description ensures that the information is presented in a clear and easily digestible manner.
4. Get inspiration from templated job descriptions
Why spend hours crafting the perfect job description from scratch when you can use our pre-written templates as a starting point?
Our job descriptions are customizable, so you can tailor them to fit the specific needs of your organization and the role you're hiring for. Plus, you get recommended tests that you can use to assess job applicants.
So why not give Neuroworx a try? Sign up for our free trial today and see for yourself how we can help take your hiring to the next level.