The future of HR: 10 HR trends for 2023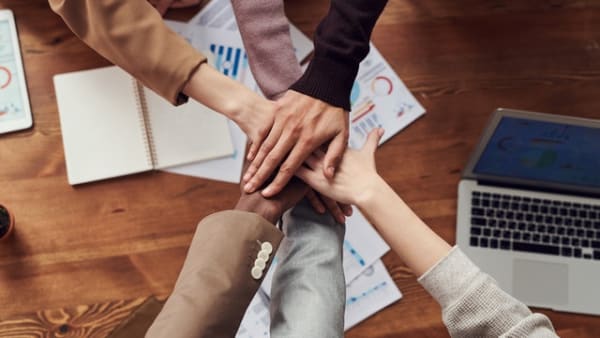 The impact of COVID-19 has accelerated changes to the culture and working models of organisations. We've been forced to reimagine the way we work, the way we live, and the way we interact with others on a daily basis.
As we look toward the future, we dive deeper into what HR looks like post-COVID; reflecting on 10 HR trends we're expecting in 2022 and beyond.
Will these new trends become part of our working culture, or are they just temporary measures during an uncertain period?
1. A new way of working
National lockdowns have forced companies to trial remote working on a global scale. But why are large corporate companies only now just embracing the change and will it stick?
Cost benefits
Huge amounts of money are being saved on rent each month. HSBC recently announced it axed 40% of its global office space, which represents a massive saving for the global bank.
As more companies look to reduce their commercial space, there will be increased pressure on landlords. Rents have already fallen by an average of between 5% and 6% for prime office space, and there will likely be a rippling effect in cities which thrive on commercial real estate.
We expect to see this open up more opportunities for companies who might not have been able to afford office space in prime spots. For better or worse, your teams might be relocating.
Productivity benefits
There are also upsides for employee productivity. One study showed that 77% of remote employees say they're more productive when working from home, and in a PwC survey of 669 CEOs, 78% agreed that remote collaboration is here to stay for the long-term.
With benefits like these, HR teams can feel certain that changes are here to stay.
Hybrid work models
"The future of work from home will be a hybrid work model" according to Google's CEO Sundar Pichai. But what is hybrid working?
A hybrid working model is a flexible location arrangement between company and employees, to combine onsite and offsite work. This is arguably one of the biggest HR changes worldwide, as it grants employees flexibility but also adds complexity to HR when managing well-being, time-sheets, improving culture and of course hiring new employees.
A recent survey at Google found that 62% of their employees felt they only needed to be in the office on occasion, whilst 20% felt they didn't need to be in the office at all. Since Google's announcement of their new hybrid work model, many companies have followed suit.
What does this mean for HR?
HR is probably the business area most impacted by employees working remotely. Significant changes to hiring processes, employee well-being initiatives, and HR teams' daily tasks will all be changing. The best advice we can give is to be prepared and make adjustments as soon as possible.
2. A data-driven way of hiring
Technology and new models of working are changing the way we hire – and if the research above is anything to go by, this new approach isn't just a temporary fad.
HR metrics
According to one study in 2020, 50% of experienced hiring professionals (including HR personnel and hiring managers) say that data is the top trend impacting their hiring practices.
Pre-employment assessment platforms
Pre-employment assessments are an effective way to take the guesswork out of identifying and hiring the right talent, increasing the depth and quality of the candidates that move through the assessment process.
Removing unconscious bias is a challenge most companies face; HR teams are turning to pre-screening platforms as one way to counter bias in their hiring.
Gamification
Gamification is not a new concept – it introduces game elements into non-game situations to help recreate job-like experiences and scenarios in the form of gameplay. It's a creative and fun way for both brand promotion and hiring candidates.
We think gamification in recruitment is the future. For example, Google uses a code jam competitionto hire some of the best programmers in the world.
Automation & AI
Augmented intelligence enhances decision-making (compared to artificial intelligence, which replaces human decision-making). We are an advocate for enhancing decision-making using the power of automation and data for hiring.
You'll definitely be seeing more automation with tasks and software to support data-driven decisions around shortlisting candidates.
3. The end of CV screening
Do traditional resumes have the same value they once did – or are they becoming obsolete? If lockdown has taught HR and recruiters anything, it's that technology is changing the way we hire. Tools like Zoom and Microsoft Teams have allowed us to change the way we hire across the world.
Shortlisting candidates is becoming more effective, budget-friendly, and making it quicker to build teams through recruitment assessment tools. The future is looking more efficient, less biased and certainly smarter with AI in recruitment. So where does the resume fit into all of this?
While we think parts of the resume still matter, we believe there are some critical issues with resumes:
Core problems with resumes:
They invite unconscious bias
The standard resume is static
They are weighted towards experience over skills
They are not data-driven
With recruiters and HR teams having to sift through hundreds of candidate applications for some roles, these four core challenges present problems when shortlisting candidates.
What does this mean for HR?
For HR teams this means that you might soon be saying goodbye to CVs and hello to LinkedIn, online job profiles and digital applications.
If you haven't already, you'll likely be adopting skill-based tests in your hiring process rather than spending time over-analyzing work experience and gaps in CVs.
You might also find that AI is supporting your decision-making for hiring the right candidates.
4. Upskilling in technology
With the changes to the way we hire and an increase in remote work models, it's likely that HR and recruiters will need continual training in the latest technologies and trends. This might be delivered through skill-sharing internally or through external communities and workshops.
Examples of technology that you could find yourself using include Applicant Tracking Systems, recruitment apps/tools, interview schedulers, pre-employment assessments, time management tools, video conferencing, and more.
It's also likely that training will be online, meaning that HR teams might be responsible for organising workshops and events for remote teams. Be prepared for that.
5. Hiring tools
What recruitment apps and hiring tools do you need to consider? Here are four worth considering:
6. Diversity & inclusion initiatives
Engaging with diverse communities and fostering initiatives to grow a diverse and inclusive workforce has never been more important. Growing conversations and movements have meant progress for HR teams and the way we hire. Some 69% of executives believe that diversity and inclusion are the most critical issues in 202.
It's also beneficial for business too. Around 70% of diverse companiesare better positioned to capture new markets. And with the higher number of markets comes much better performance and a lot more money. Also, companies with racial and ethnic diversity are 35% more likely to perform at a higher level and have increased ROI.
The bottom line, you need to be working on your initiatives to attract niche communities and create diverse teams. It's a win-win situation.
7. Reinventing the employee experience
The changes that have occurred in the last two years will mean your hiring processes might be a little out of date, and out of touch with your competition. Striving for the best candidate experience should be at the core of your review.
The easier it is for an applicant to interact with and understand your company, its values, and the role itself, the easier it will be to attract top talent. Candidate experience matters and creating a flawless experience for your pipeline is vital – especially for the candidates that don't get hired.
According to a recent study:
26% of candidates' top complaint is that the process took too long
52% of candidates were still waiting for a response after 3 months
46% of candidates would sever a business relationship due to a poor candidate experience
Stats like this should hopefully convince you of the importance of candidate experience when hiring.
8. Bigger HR budgets
With the money companies are saving on commercial space – as well as the cost savings for remote workers – you may see bigger investments in HR and recruitment.
Finding top talent in any industry is challenging, particularly targeting passive candidates. For companies to be successful they will need to invest in finding the best employees and that starts with HR and recruitment. Get ready to revise your recruiting and HR strategy.
9. Purpose-driven organizations
Why is it more important now for organizations to have a purpose? Purpose enhances recruitment.
When a company's purpose resonates with their potential candidates, they will be eager to work there and feel fulfilled in their role. Thus they are more likely to stay with the organization long-term. It's proven to increase retention and is a factor for success.
A purpose-driven organisation shows its employees that it takes purpose seriously by actively demonstrating the steps it's taking to meet this promise.
10. Employer branding
Raising your brand profile can be difficult among the thousands of companies also looking for top talent. Sharing your story and engaging with the wider community has never been more important, since employees look for purpose-driven companies with values they share.
With the move to digital hiring, HR teams will be working more closely with their marketing and digital teams to ensure their career and employee pages are as optimised and value-driven as possible.