HR Statistics For 2023: What's Changing?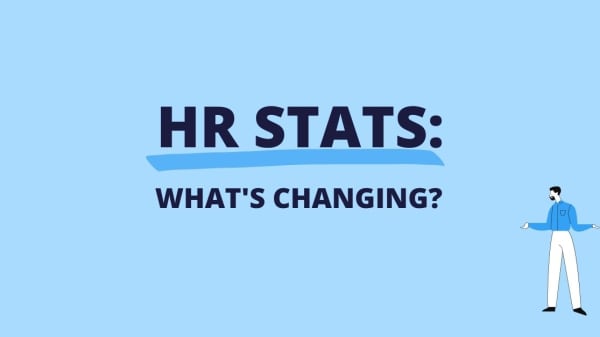 In a rapidly changing business landscape, HR professionals need to be adaptable and know how to anticipate the needs of their company and employees.
As the workforce is more diverse than ever before, HR departments will need to be aware of different cultural norms and expectations.
Employees will increasingly expect companies to offer flexible work arrangements and benefits packages. They will also want opportunities for career growth and development.
HR professionals need to be aware of these factors so that they can develop policies and procedures that will help their organizations thrive in the new world of work.
Here are some specific statistics that HR professionals should keep in mind.
Remote work: is it the new normal?
The pandemic has accelerated the trend towards remote work, with many companies adopting flexible working arrangements in response to the crisis.
According to Forbes, 74% of professionals expect remote work to become standard, according to a recent survey of HR trends. This shift will have a profound impact on the way businesses operate and the way we live and work.
Businesses will need to adapt their policies and procedures to accommodate this new way of working, and employees will need to learn how to manage their time and space effectively.
Buffer's study found that an overwhelming majority of remote workers (97.6%) would like to continue working remotely, at least some of the time.
This preference for remote work is in line with other studies that have found that employees prefer flexible work arrangements and believe that they make them more productive.
With more and more companies offering remote work options, it seems likely that this trend will continue into the future. This is good news for employees who value flexibility and autonomy, and bad news for those who prefer traditional office environments.
Why health care benefits are more important than ever
Employee benefits are an important part of any job. They can help employees feel more secure in their position and can attract and retain high-quality employees.
Employee benefits can include health insurance, retirement savings plans, and paid time off. Employers should carefully consider their employee benefits package to ensure it meets the needs of their employees and helps them attract and retain the best talent.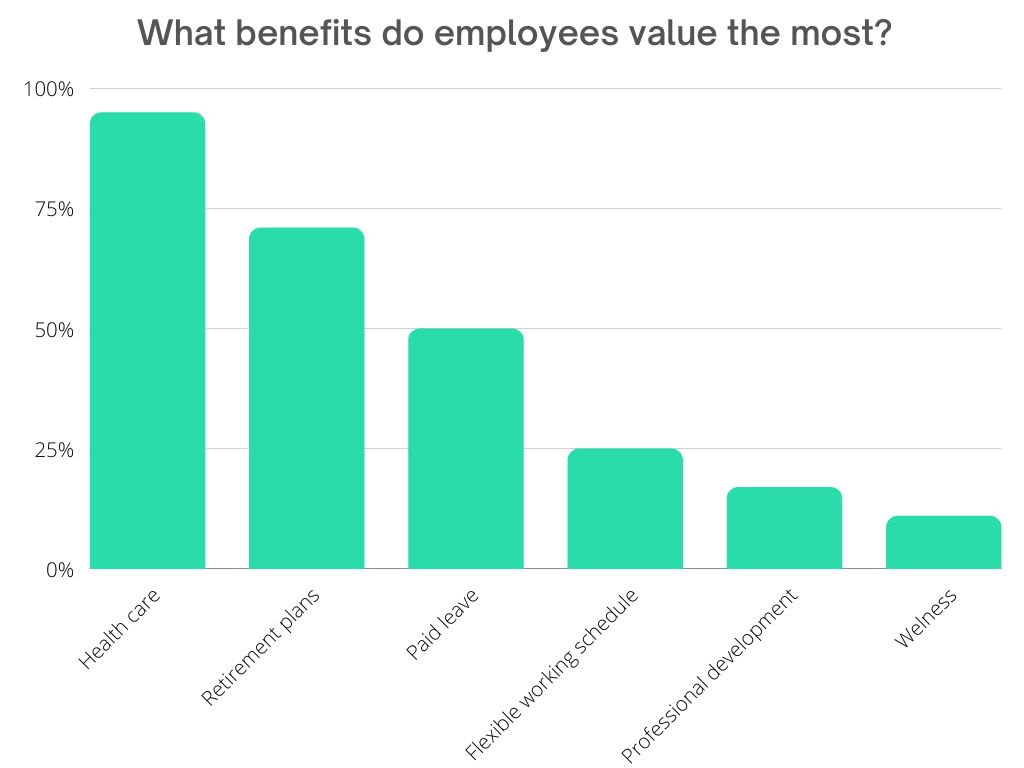 Health care benefits will continue to be an important employee benefit. Here are three reasons why:
Health care costs are rising: According to the Kaiser Family Foundation, the average annual premium for employer-sponsored family health insurance was $22,221 in 2022. This is a 4% increase from 2021, and costs are expected to continue to rise in the coming years.

Employees value health care benefits: A recent survey by the Society for Human Resource Management found that 90% of employees say health care benefits are very or extremely important when considering a job offer.

Health care benefits help attract and retain employees: 56% of surveyed US workers said that the quality of health care insurance impacts their decision of staying at their job.
DEI: what employees expect
As the world progresses, so does the way we do business. In order to stay ahead of the curve, employers must embrace DEI initiatives in the workplace.
A Traliant survey shows that 79% of employers plan to increase their focus on DEI in 2022. This includes implementing training programs, hiring more diverse employees and improving communication around these issues.
DEI is important because it allows businesses to better reflect the communities they serve. It also opens up a wider pool of talent and perspectives to choose from when hiring employees. Additionally, studies have shown that employees who feel like they can be their authentic selves at work are more productive and engaged.
However, a study conducted by Culture Amp discovered that only 49% of organizations have a formal DEI strategy in place. This is despite the fact that nearly two-thirds of employees say they want their employers to do more to improve diversity, equity, and inclusion in the workplace.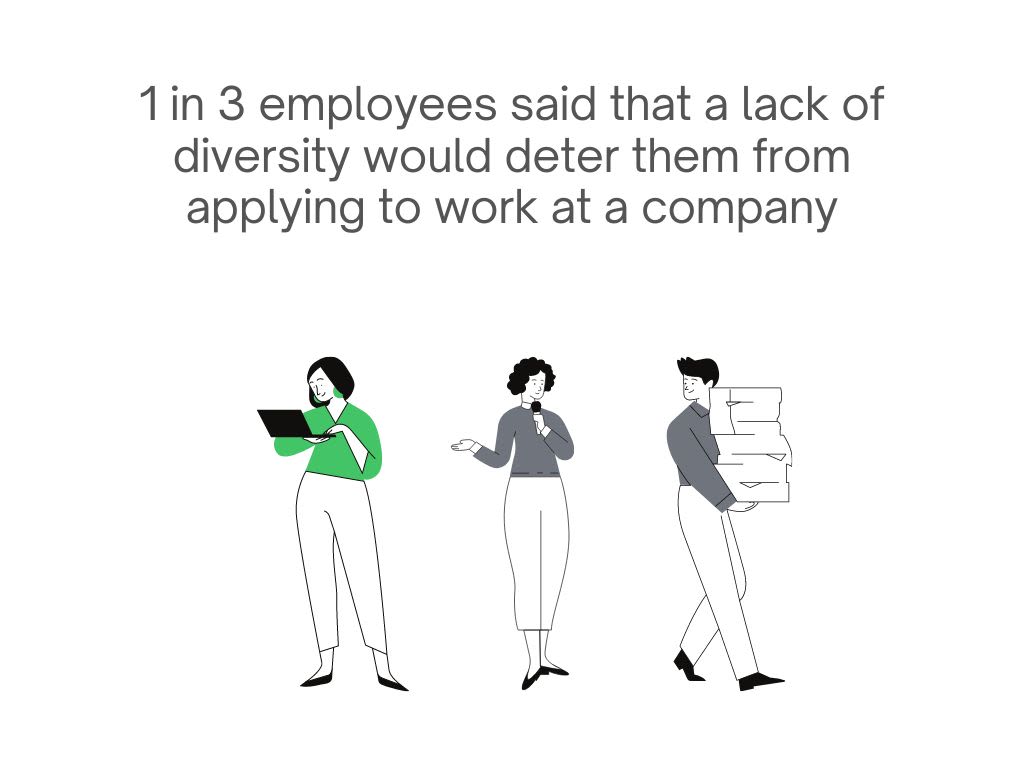 Glassdoor's study found that one in three employees and job seekers said that a lack of diversity would deter them from applying to work at a company. For Black (41 %) and LGBTQ (41 %) job seekers and employees, it is much higher than for white (30 %) and non-LGBTQ (32 %) job seekers and employees.
The same study revealed that employees and job seekers tend to be more trusting of their fellow employees than senior managers (19%), the company's website (9%), and recruiters (6%) when they consider what diversity and inclusion entail at a company.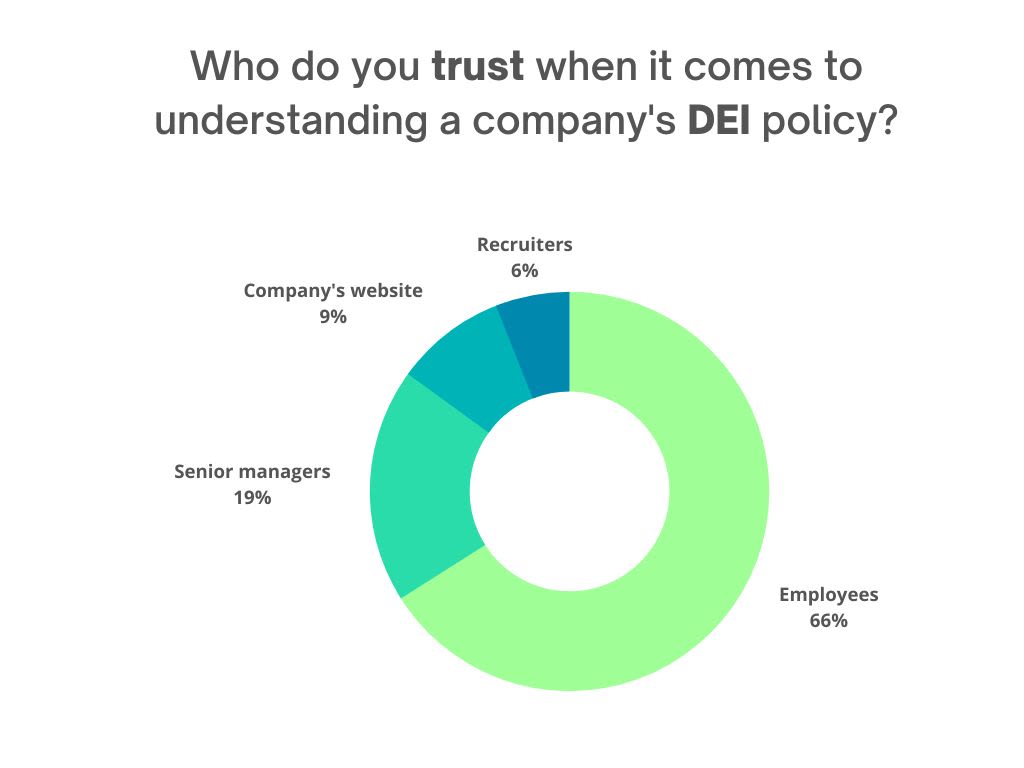 Ultimately, implementing DEI policies is not only the right thing to do, but it makes good business sense. Employers who want to attract and retain top talent should make DEI a priority in their organizations.
What will it take to retain employees?
According to the Bureau of Labor Statistics, the average worker stays at each of his or her jobs for 2.8 years. That's not very long. In fact, it seems like every other week, there's a news story about some company that's losing its top talent. With all of the talk about attracting new employees, it's important to not forget about retaining the employees you already have.
In today's economy, it's no secret that employees value financial rewards. PwC's Global Workforce Hopes and Fears Survey found that 71% of employees said that salary is often a major factor when deciding to stay at a job.
However, employers need to focus on more than just financial rewards. Creating a positive work environment and offering opportunities for career growth are also important factors in keeping employees happy and engaged.
Employees want to feel like they are part of a team, and that their contributions are valued. PwC's Survey showed that 66% of employees want to work in an environment where they feel comfortable being themselves.
Workers also want to be challenged and have the opportunity to learn new skills and grow in their careers. They want to know that there is potential for advancement within the company. LinkedIn Learning's Workplace Learning Report revealed that employees usually stay twice as long at a company with higher internal mobility than workers at a company with lower internal mobility.