5 UK Payroll Trends To Watch In 2023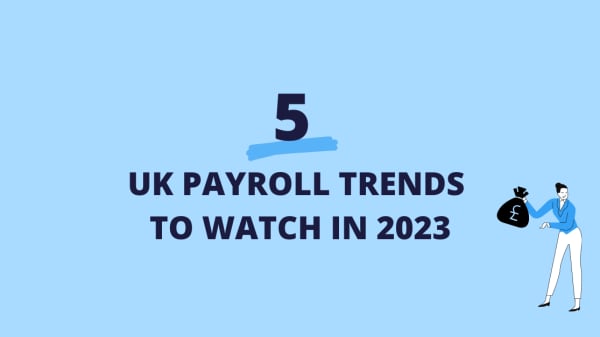 In 2023, the UK workforce is expected to grow by around 1.2 million people, as the country continues to attract more employees into the labour market. Brexit will also continue to have a significant impact, with uncertainty surrounding future migration and trade relationships likely to lead to changes in hiring patterns and employee benefits.
There are several contemporary UK payroll trends that employers should be aware of. These include greater use of artificial intelligence (AI), an increase in flexible working arrangements, and a focus on employee experience.
Top 5 UK Payroll Trends For 2023
1. Offering A Competitive Salary Is More Challenging
According to a report by the Chartered Institute of Personnel and Development (CIPD), more than two-fifths (44%) of employers say that salary expectation is their main concern when it comes to finding the right candidates. This is a significant increase from 2018, when just one-fifth (21%) said the same.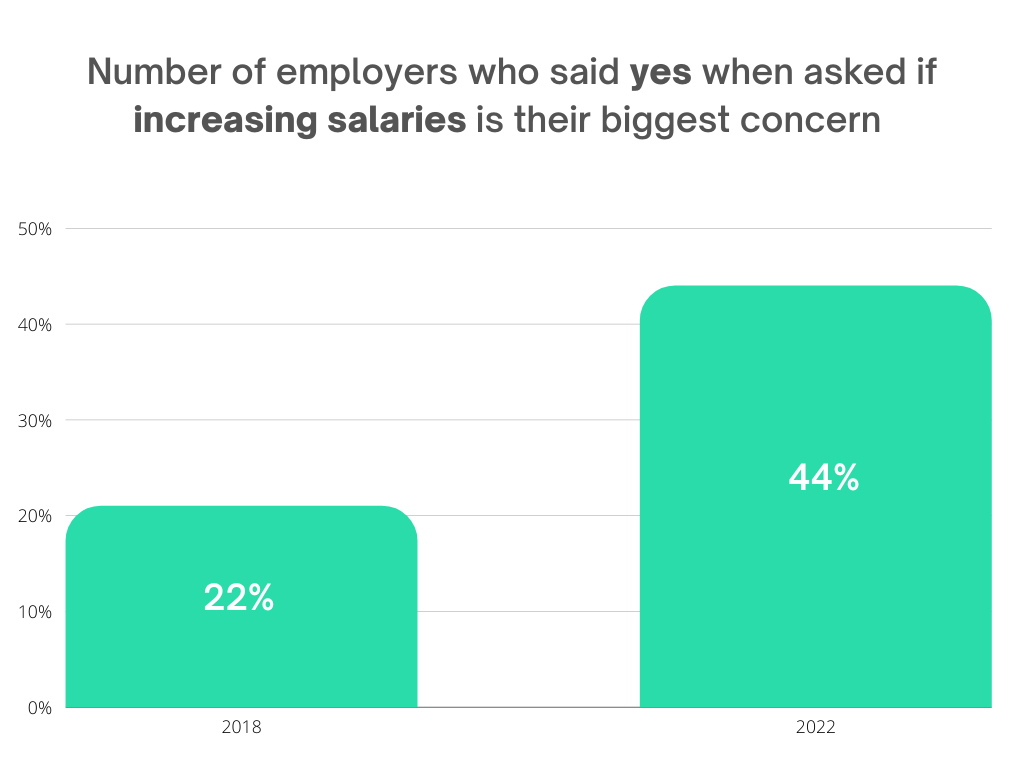 However, only 27% of organizations anticipate raising pay to address recruitment challenges in the next six months. Many businesses are hesitant to increase wages, fearing that they will not be able to afford it. Others argue that increasing pay would lead to higher inflation and further economic instability.
This trend is likely to continue over the next few years, as businesses struggle to offer sufficient salaries to get employees who meet their requirements. This could present a major issue for the UK economy, as businesses may be forced to scale back their operations or even move abroad.
2. More Automation
As technology continues to evolve and automate more processes within the workplace, employers will need to find new ways to manage their payrolls. This could involve using automated software or even drones to collect data and document employee movements.
According to a report by Ceridian, 72% of payroll experts polled have said that they are planning to use new technologies like Blockchain, robotic process automation, and artificial intelligence (AI).
AI and cloud/SaaS are among the most popular new technologies on the radar; more than half (52%) of the organizations surveyed are planning to explore them.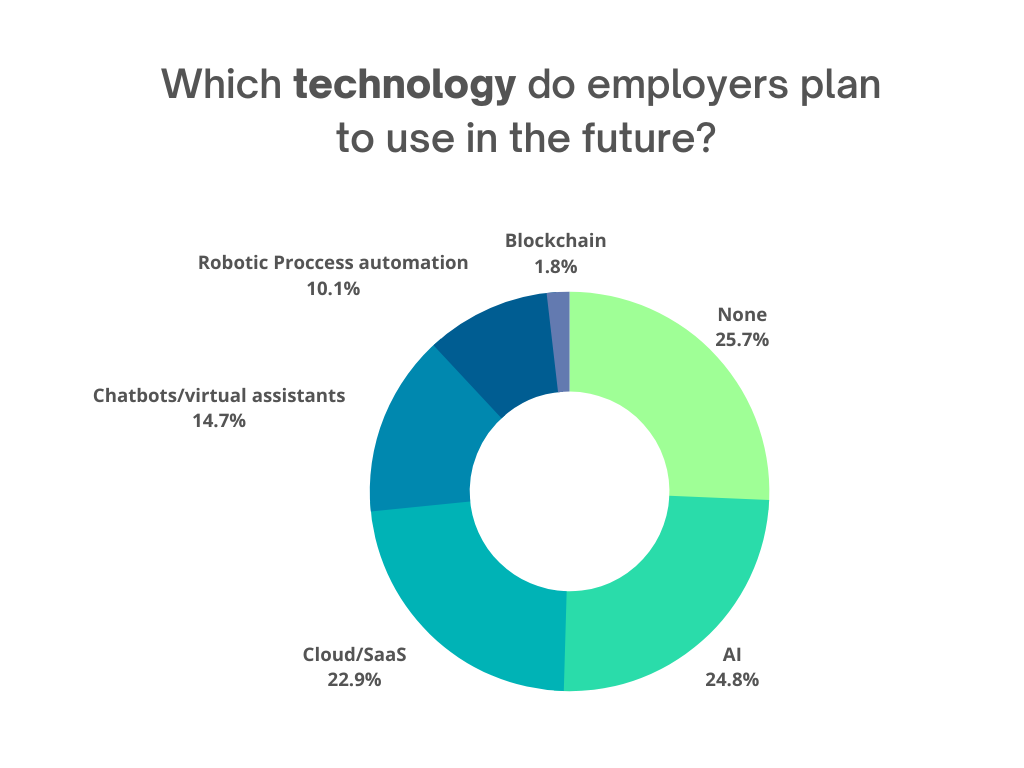 While there may be some initial resistance to the changes from those employed in traditional payroll roles, it is likely that the overall benefits of automation will soon become clear.
Automation can help to improve accuracy and speed up processing times, whilst also reducing costs. It can also provide organizations with valuable data and insights that can help to drive future business decisions.
As such, it is anticipated that businesses will increasingly turn to automation tools and technologies to streamline their payroll processes.
3. Payroll Arrangement For Flexible Working
A flexible working arrangement is no longer just for parents with young children. It's a way for employees to have more control over their work/life balance.
According to a report by CIPD, more than half (51%) of the employees polled already have flexible working arrangements.
The report also predicts that this number will grow, as more than one-third (37%) of the organizations surveyed have seen an increase in requests for flexible work.
So what does this mean for British businesses? Firstly, it's important to be aware of the changing hiring trends and make sure your workplace policies are up to date. Secondly, employers should consider offering flexible working arrangements as a way to attract top talent and boost productivity.
4. Compliance Is More Important Than Ever
To accommodate the shift, many companies in the UK are considering new payroll arrangements for flexible working in 2023.
Flexible working arrangements are supported by the changes to payroll regulations, which will make it easier for employers to hire temporary workers and shift workers, and for employers to pay employees for overtime work.
Under the new regulations, employers will be able to use a payroll bank to hire temporary workers. The payroll bank will also allow employers to pay employees for overtime work, without having to track their hours.
The new regulations will also make it easier for employers to hire shift workers. Employers will be able to hire shift workers directly from the payroll bank, without having to go through a staffing agency.
There have been several additional changes to payroll regulations. These changes will affect both employers and employees, so it's important for everyone involved to stay up-to-date.
5. Employee Experience To Combat The Great Resignation
The Great Resignation will continue to have an impact on payroll. According to the PwC workforce survey, almost one in every five (18%) UK employees say that they are likely to switch to a new employer in the next 12 months.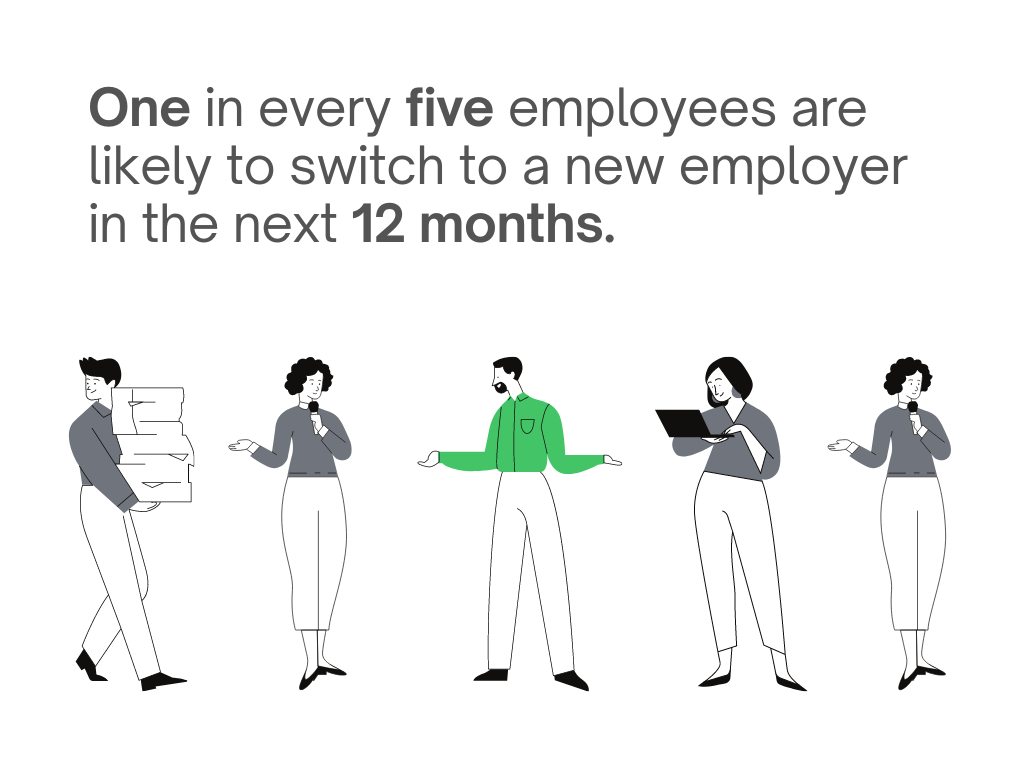 But what if there was a way to improve the employee experience and keep people in their jobs for longer? One solution is to focus on payroll and make sure employees are being paid fairly and have access to good benefits.
Companies are starting to look at new technologies to deliver a positive experience when wages are adjusted or payments are not received. Additionally, there is a growing trend to use employee self-service to update personal data, view pay stubs, or request vacation, and ways in which payment technology can adapt to SOPs are increasing.
In conclusion, it can be seen that there are many changes taking place in the UK payroll landscape, with organizations having to review their payroll strategies and ensure compliance and automation. That is all to provide a better employee experience.